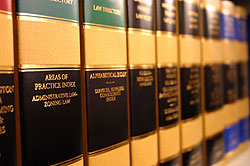 Methe & Rockenbach, P.A. focuses on the following areas of insurance defense litigation:
General Liability
A substantial portion of Methe & Rockenbach, P.A.'s practice is devoted to the defense of general liability claims such as negligence, personal liability , premises, products, motor vehicle liability, and defamation.
Insurance Coverage
Because of their extensive experience in the handling of insurance claims for a variety of insurers, the attorneys of the firm have honed their skill and knowledge in handling unique areas of insurance coverage from providing coverage opinions to litigation and appeals involving declaratory relief actions. The firm assists clients with interpretation and legal analysis of terms, conditions, and exclusions contained within Homeowners, Umbrella, Personal Liability, Commercial General Liability, Business, Contractors, Condominium Unitowners, Rental Dwelling, Condominium/Association, and Manufactured Home Policies.
Appellate Practice
Methe & Rockenbach, P.A. has a growing appellate department consisting of two (2) former appellate staff attorneys and a third (3rd) appellate attorney who assist the clients with trial support research, memoranda of law, the proper evaluation of whether to bring an interlocutory, non-final appeal prior to trial, and the appropriate prosecution or defense of a final appeal following a jury trial. The appellate lawyers are actively involved in appellate practice and are skilled to prosecute or defend cases through the appellate process in State and Federal Court.